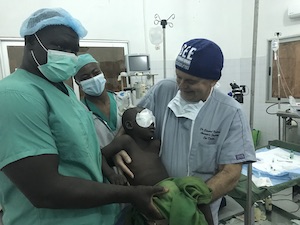 It's not just a cataract surgery. Each person has a story. Each surgery is restoring not only eyesight but gives the person a new life full of hope and a new future, to provide again for their families, to see their grandchildren for the first time, to stop being a burden to others who have to care for them,.
Dr. Edward Kondrot, a humanitarian eye surgeon from Zephyrhills, Florida has restored sight free of charge to 1200 people around the world in 12 months since February 2018.. Using a manual small incision cataract surgery method to do his surgery, Dr. Kondrot carries his donated supplies in 6 check-in suitcases and travels to hard to reach areas of the world and help restore eyesight to the blinds in the villages.
Dr. Edrwad Kondrot, a humanitarian eye surgeon from Zephyrhills, Florida, USA, has performed more than one thousand two hundred eye surgery free of charge to poor people around the world since February 2018. He can often be seen at airports lugging his six suitcases full of donated supplies that he carries into hard to reach areas where medical care is not available to the village people. He is currently aboard the YWAM medical ship, docked out of Finschhafen in Papua New Guinea. Some islands in Papua New Guinea are not connected to the main island and the only way to get there is by boat. The blind patients are brought onto the medical ship by dinghy and they are operated in the operating room about the ship. Last month Dr. Kondrot was on the Mercy ship docked out of Conakry, Guinea, Africa. In February of 2018, Dr, Kondrot was in Togo where he operated on more than one hundred blind patients including 5 children who are born blind, deaf and mute.
Giving sight back to these poor people have given a new meaning to Dr. Kondrot's life. He has since 2018 sold his house and dedicate his life to traveling around the world and restore sight to the blind. He says to him, it is not just a cataract surgery, it is giving a new life to the person who is affected by blindness. When they can see again, they are free to do anything they want. They have hope again. They can go farm and cultivate their land. They can see their grandchildren again. They can stop being a burden to their family.
In many third world countries, we often see a child guiding a blind adult. When the adult can see again, the child can be free to go to school and have a better future for himself. Many older people can see their grandchildren for the first time. There are many mothers who are blind while being pregnant and never see their children after birth. It is such a joy to see them look at their own children's faces for the first time after the eye patch is taken off.
Dr. Kondrot is now teaching other ophthalmologists his technique of surgery that requires a very small amount of supplies that can be done in remote areas of the world and hopes that he can get more doctor to join in this movement to restore vision to the blind where there are no eye doctors available or where people are so poor they can not afford this simple 10 minutes surgery that is life-changing for so many people.
To find out more about Dr. Edwrad Kondrot, please go to www.healingtheeye.com
email him at info@healingtheeye.com
Facebook page: healing the eye wellness center
Contact Detail:
Company Name: healing the eye
Contact Person: ly kondrot
Email: lykondrot@yahoo.com
Phone No: +1 6025387047
Address: 40122 mason road
City: Zephyrhills
State: FL
Country: United States
Website Url: www.healingtheeye.com


Source: www.PRExhibition.com