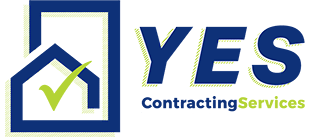 Johnson City, TN – YES Contracting Services is striving to be a "one-stop shop" for homeowners and businesses in the Tri-Cities area. With a recent expansion of comprehensive exterior services throughout the Tri-Cities, the Johnson City based-company is aiming to protect buildings and add property value as local leading contractors.
YES's mission to offer comprehensive roofing services in Johnson City, Kingsport, and Bristol came together in 2017. The company officially acquired Gibson's Roofing Company, based in Kingsport. This deal allowed them to consolidate residential and commercial services in the area.
Despite expanding their reach and the services they provide, YES remains a local and family-owned company. They use this business model as the basis for their customer service approach, creating personal relationships with their Tri-Cities clients.
For each project, the company strives to provide results that the customer will be completely satisfied with. This is accomplished in part by assigning a project manager to each job, ensuring each part of the process to be completely supervised. They also aim to keep their services affordable while retaining efficient, high-quality work.
When it comes to providing comprehensive roofing services, YES aspires to hit all of the marks. Roofs are an expensive investment, no matter the home size or budget. YES knows this and promises to put their best work in so that any roofing problem is fixed fast and the results last. The company strives to give customers peace of mind and increase every Tri-City home's appeal and value.
YES specializes in a variety of residential and commercial roofing, including everything from leak repairs to roof coatings. They also offer other home improvement services such as gutters, siding, replacement windows, and even new outdoor decks. Their work is time and energy-efficient, and the source materials they use are manufacturer-certified.
The company also prides themselves on their emergency roofing services. When disaster strikes the Tri-Cities area, they promise to be there for property owners. They get the business up and running as soon as possible to complete emergency repairs.
In addition to catering to each customer, YES Contracting Services places an emphasis on the community. As a member of the Johnson County Builders Association and a contributor to the Appalachia Services Projects, the company is eager to help the Tri-Cities to thrive. YES hopes that their company expansion will contribute to a thriving Tri-Cities community.
Contact Detail:
Company Name: YES Contracting Services
Contact Person: Thomas Fields
Email: info@yourexteriorsolution.com
Phone No: (423) 764-8276
Address: 3611 North Roan St
City: Johnson City
State: Tennessee
Country: United States
Website Url: https://www.yescontractingservices.com/

Source: www.PRExhibition.com