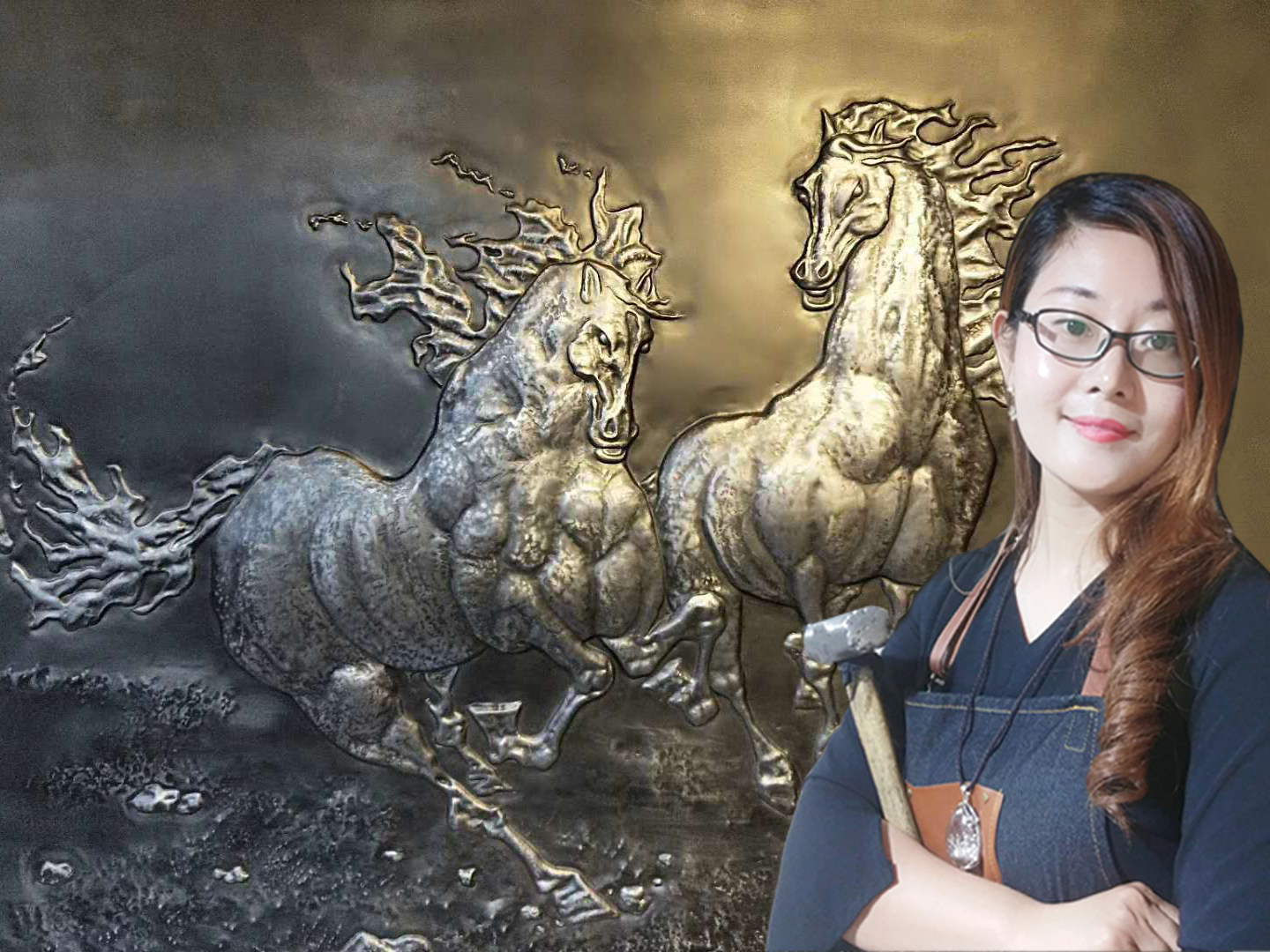 In the ancient history of China, there was a girl named "Mulan" who, was very boyish since childhood, loved Kong Fu over embroidery. When the war came, Mulan dressed up as a man, and joined the army to replace her sick father. Later, she grew to a commander and led her soldiers to victory. It became the favourite tale.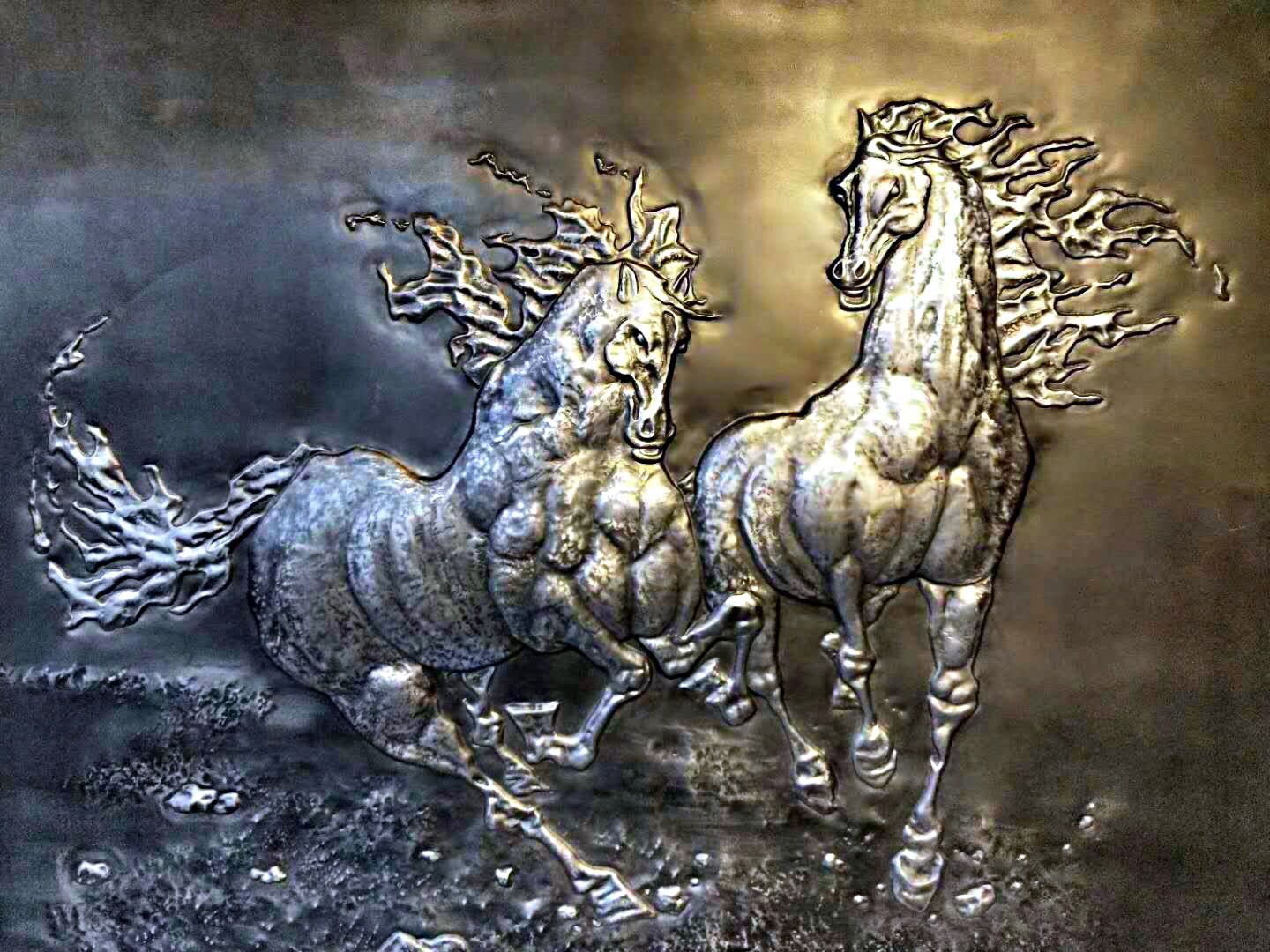 The Running Era (Guo Mohan)120x100cm
Mohan, a beautiful girl from Hebei Province, China, under the influence of her father Guo Haibo, she doesn't like piano or painting as other girls, but enjoys knock with a hammer on a cold iron plate to create vivid emboss images such as nature, human beings and animals.
Iron plate colored copper emboss is a new skill in the history of world art and craft. It is also a new artistic expression created through honing and experiments by Guo Haibo and his brother who love art and engaged in metal materials researches. The art works we usually admire are either on paper or canvas, or sculptures by plaster, cement or marble. The Guo brothers who worked with iron plates and copper plates every day were deeply attracted by the cold texture of metals, they began to think how to create vivid art works on iron plates and copper plates. Firstly, draw the sketch by hand, then carefully forge with hammers, and finally beautified by batik techniques such as polishing and burnt coloring, an iron plate colored copper emboss is born. The amazing artistic effect touched the audience and is listed as an intangible culture heritage by the Chinese government.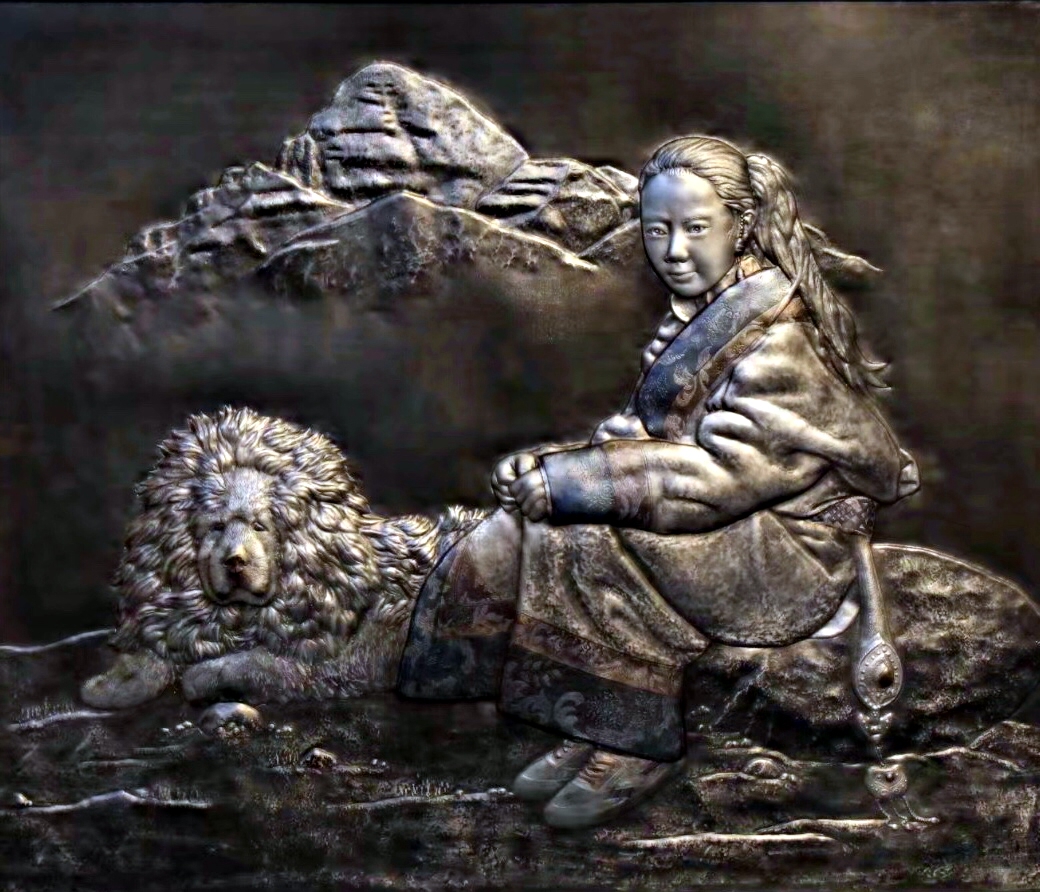 Kangrinpoche(Guo Haibo,Guo Mohan)100x120cm
Guo Mohan, isn't inferior to men, inherits her father's career. She loves the great beauty created by her father and integrates her life to it. The process of achieving goal is never easy, especially for a girl with limited strength to deal with metal. Most of her life is spent in the studio, Guo Mohan embraces loneliness. She hangs on to it although her arm is swollen. With her growth, excellent works such as "In Smooth Water", "The Hope of the Mountainous People" and "The Running Era" were born under her hammer, which created an incomparable aesthetic feeling for the audience. Leave the world a new and precious art wealth.
At present, beautiful Guo Mohan is a teacher of Art Department at Hebei Industrial Vocational and Technical College. Like the "Mulan" in history, Mohan also leads troops, but her troops aren't for war, but to create beauty and civilization. They overcome the hardships of the profession, releases impetuous of life, set foot on solid ground, go forward with grateful and steadiness.
Contact Detail:
Company Name: Yuemei (Beijing) Culture Develop Group
Contact Person: Susan Cui
Phone No: +86 18611005073
Address: 20 E 3rd Middle Ring Rd. Lecheng Center Building A 5th Floor
Country: Beijing
Website Url: http://www.yuemeiculture.co


Source: www.PRExhibition.com