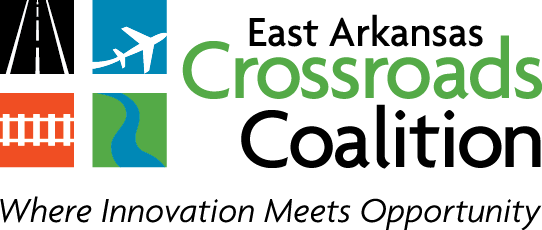 East Arkansas Crossroads Coalition is partnering with the Arkansas Small Business and Technology Development Center (ASBTDC) to host Business ForwARd, Small Business Expo Hour. This free virtual event will cater to East Arkansas Small Businesses with the first one scheduled April 29th! The virtual expo will begin promptly at 10:00 am and end at 11:00 am. Two additional events will take place on May 27th and on June 17th, also from 10:00 am- 11:00 am.

Event presenters include the Arkansas Delta Training and Education Consortium, Arkansas Workforce Development Centers, the Federal Reserve Bank of St Louis, the USDA, and the East Arkansas Enterprise Community among others.

"This event will serve as a fast paced, resource-packed opportunity for small businesses and entrepreneurs in East Arkansas to learn more about the resources and programs that are available to support them in their business endeavors," said Mark O'Mell, President of Crossroads Coalition. With a primary focus on businesses having 50 or less employees, this virtual event intends to empower small businesses across East Arkansas by delivering straight to the point, no nonsense information on indispensable topics related to small business owners and executives.

Business ForwARd East Arkansas Expo Hour: Topics and Highlights
CARES Act & Stimulus

PPP Application, taxes, and forgiveness

Workforce Recruitment & Pipeline

Post Covid19 business recovery

Sourcing Capital

Industry Training Programs & Opportunities for employees

Minority business programs among others
The event is free of charge, but registration is required. To register visit crossroadscoalition.org/business-forward-ea/, email events@crossroadscoalition.org, or call 870-238-5300.
Contact Detail:
Company Name: East Arkansas Crossroads Coalition
Contact Person: Mark O'Mell | President
Email: Send Email
Phone No: 870-238-5300
Address: 1790 N. Falls Blvd.
Country: United States
Website Url: http://crossroadscoalition.org/


Source: www.PRExhibition.com