Shieldon has been in the international trade sector for over 20 years and has the expertise to address customers' issues.
The client that Shieldon worked with is from a trading firm that has been selling a variety of things in his country for many years, including outdoor equipment, culinary tools, homewares, tablewares, and clothing.
The customer picked out many items from our most recent catalog.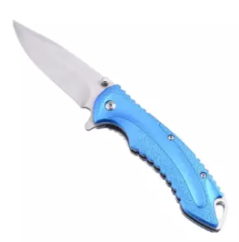 They questioned us extensively before making a purchase since they were looking for a reliable partner in business. They inquired about our capacity to engrave logos, alter colors, wrap items, and ship internationally.
Two folding knives, a multiplier, a bike repair tool, two portable EDC tools, and a golf fork were among the products that they finally purchased from us.
Shieldon provided quality comparison, prototyping, shipment, and packaging.
Folding knives were among the items they bought.
The blade was made of 3Cr, and the handle was made of stainless steel with color printing. We can also see that each knife has a ring on it.
So we think of it as a canabin as well. The point of this thing is that you can put it on your backpad or belt and take it with you when you go outside.
The blade isn't very big, so it can't be used to cut wood or prepare food. However, it works fine for simple cutting work.
They also bought a few EDC tools.
It has a canabin and a little blade that is concealed, so it can be used as a may opener or a bottle opener.
A bike repair tool is another item they invest in.
We took pictures for the client to show him that we are diligently working on his bicycle repair tool, picking out the finest components one by one from mass manufacturing.
The buyer also bought a coin knife, which is a kind of EDC equipment that belongs to the category of multi-tools.
This product is in high demand right now, and it even became an Amazon bestseller.
With its convenient portability, many functionalities, and rising popularity, this product is a top contender for best in 2022 production.
Everything that was completed was examined thoroughly before being packed. We assembled each unit by hand and made sure that every part was properly set.
There are a few details we need to keep in mind, so we meticulously checked off all the relevant ones on our quality control checklist.
The work on the preparedness document was laborious and time-consuming, but it helped the quality assurance team have something to follow when doing deliberate checks of the final product.
So if you are looking for a trusted OEM provider, Shieldon is here to help you. We are proud to provide quality products and services with a broad range of needs in mind.
Our professionals have the experience and knowledge needed to take on any challenge that you have in mind. We are committed to making sure the products we produce meet your standards, fit your budget, and exceed all expectations.
Get in touch with us today and let's find the right solution for you!
Contact Detail:
Company Name: Guangdong Shieldon Technology Co., Ltd.,
Contact Person: Steven
Email: Send Email
Phone No: 86-662-8663613
Country: China
Website Url: https://www.shieldon.net/


Source: www.PRExhibition.com