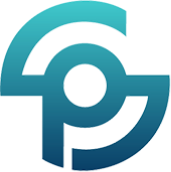 08/14/2023- Middlesex, NJ: In various industries and workplaces where lasers are used, ensuring the safety of employees is of paramount importance. Laser safety face shields play a crucial role in protecting the face and eyes from potentially harmful laser radiation. These shields are specifically designed to absorb or block harmful laser wavelengths, providing a critical barrier to safeguard the wearer in laser-rich environments. At Phillips Safety, we understand the significance of laser safety, which is why we offer a range of laser safety glasses and laser safety face shields that provide unparalleled protection.
One of the key advantages of laser safety shields is their ability to create a seal around the face, ensuring that no laser radiation can reach the eyes or skin. This complete coverage minimizes the risk of accidental exposure and offers peace of mind to workers in environments where lasers are utilized. Additionally, laser safety face shields offer additional protection against airborne particles, dust, liquids, and other workplace hazards, making them versatile and essential safety equipment in a variety of industries.
Phillips Safety proudly offers a selection of laser safety face shields that meet the stringent ANSI Z136.1 safety standards, providing reassurance to our customers regarding the reliability and effectiveness of our products as laser safety eyewear. Let's take a closer look at some of the laser safety face shields available.
Laser Safety Face Shield for ND:YAG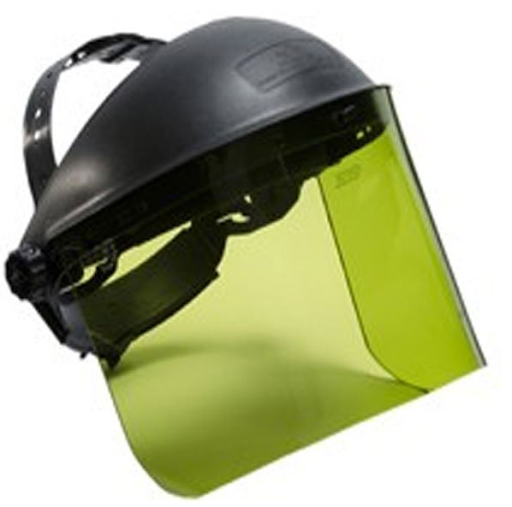 This face shield is specifically designed to protect against the harmful effects of ND:YAG lasers. Designed to protect the face and eyes, it offers maximum protection with an adjustable head strap and ratcheting nape strap for a custom fit. The shield features a pivot action for lifting while worn and is available in a curved green polycarbonate lens. It offers excellent visibility while ensuring maximum safety.
Laser Safety Face Shield for Argon and KTP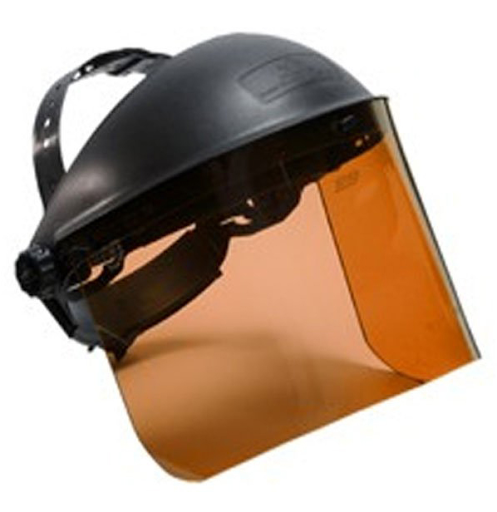 Designed to safeguard against the hazards of Argon and KTP lasers, this face shield provides optimal protection without compromising comfort. It combines advanced technology with superior performance to ensure the safety of the wearer. This shield also allows for easy lifting while worn and comes with an orange curved polycarbonate lens.
Laser Safety Face Shield for UV and CO2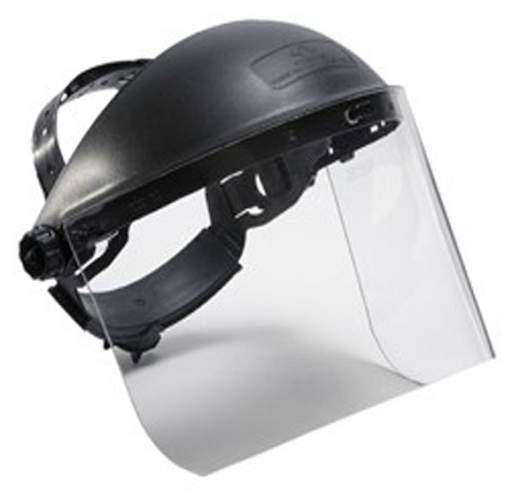 With UV and CO2 lasers becoming increasingly prevalent, it is crucial to have the right protective equipment. This face shield offers superior protection against UV and CO2 lasers, featuring cutting-edge technology and high-quality materials. It offers maximum protection with an adjustable head strap and ratcheting nape strap for a customized fit. Plus, this shield is available with a clear curved polycarbonate lens.
Phillips Safety's Diverse Face Shield Selection
Phillips Safety understands that every industry and laser application has unique requirements, which is why we offer a diverse range of laser face shields. Our goal is to provide our customers with options that cater to their specific needs, ensuring the highest level of safety and performance.
To explore the full collection of laser safety face shields available at Phillips Safety, we invite you to visit our website. At Phillips Safety, you will find a wide range of options, each designed to provide reliable and uncompromising protection for your laser applications.
Trust Phillips Safety to provide you with laser safety face shields that not only meet stringent safety standards but also optimize performance and comfort. Our commitment to your safety extends beyond the quality of our products; it includes the peace of mind that comes from utilizing the most reliable laser safety equipment in the industry. Your eyes deserve the best protection, and Phillips Safety is here to deliver it. If you need help or more information about our products, e-mail us at info@phillips-safety.com, or call us at 1-866-575-1307.
About Us:
Phillips Safety Products Inc. is the world leader in occupational safety products. Phillips Safety specializes in safety glasses for laser, radiation, welding, and glass working among others. The Company's products include laser safety glasses, radiation safety glasses, glassworking eyewear, and welding safety glasses. Phillips manufactures other safety products, including sheeting, barriers, signs, glass, and lenses. The Phillips family has been in the occupational safety industry for over 100 years and continues to play an active role in the community. Don't hesitate to be a part of the Phillips Safety family.
Like us: https://www.facebook.com/PhillipsSafety/
Follow us: https://www.instagram.com/phillips_safety
Subscribe us: https://www.youtube.com/@PhillipsSafety
Contact Detail:
Company Name: Phillips Safety Products, Inc
Contact Person: Media Relations
Email: Send Email
Phone No: 1-866-575-1307
Address: 271 Lincoln Blvd
City: Middlesex
State: NJ 08846
Country: United States
Website Url: https://phillips-safety.com


Source: www.PRExhibition.com