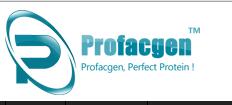 Shirley, NY-Profacgen, a world-leading custom protein service provider for a broad spectrum of industrial and academic clients with a commitment to delivering high-quality data and customer services, is pleased to update its stable cell line construction services. Scientists in the field of protein expression now have access to Profacgen's latest stable cell line construction service version supported by cutting-edge facilities.
When large amount of recombinant protein is required, stable expression line construction is recommended for reproducible and cost-effective protein production. Generally, stable cell line construct will take 3 steps: delivery of the target gene into the host cell, screening of stable expression clones, and stability test.
For efficient gene delivery and to achieve high integration rate, the company uses lentiviral vector. Limited dilution and antibiotics screening are then applied to select for high-yield, genetically homogenous stable expression monoclones. When fluorescent protein is fused to the target protein, Profacgen can also use flow cytometry to screen for positive clones. To ensure integration of your target gene and stable/inducible expression of the protein, the company provides PCR, qRT-PCR, microscopy, flow cytometry analysis and stability test according to its customers' specific requests.
"We are quite pleased to update our stable cell line service for protein expression to better serve our customers worldwide. High yield and reproducibility, and high cell line stability can be achieved with our updated services. Most importantly, our service is fully customizable." Commented Crystal, the chief marketing staff in Profacgen.
To know more information about Stable Cell Line Construction Service in Profacgen, please visit: https://www.profacgen.com/stable-cell-line-construction.htm
About Profacgen
Profacgen provides process development and cGMP manufacturing services for biological active ingredients. We have ready access to state-of-the-art biopharmaceutical product development and manufacturing facilities and our staff scientists have demonstrable expertise in all aspects of biopharmaceutical manufacturing, from facility design and operation to the ability to provide best advice relating to product development. We also save our clients a great deal of time with bioprocess scale-up services. Our fermentation laboratories are equipped with state-of-the-art fermentors and bioreactors that enable us to express protein in large scale. Our customers can choose to enter into the protein expression pipeline at any stage depending on their needs.
Contact Detail:
Company Name: Profacgen
Contact Person: Ellen Burns
Email: contactprofacgen@gmail.com
Phone No: 631 619 7922
Address: 45-1 Ramsey Road, Shirley, NY 11967, USA
City: Shirley
State: New York

Country: United States
Website Url: https://www.profacgen.com


Source: www.PRExhibition.com