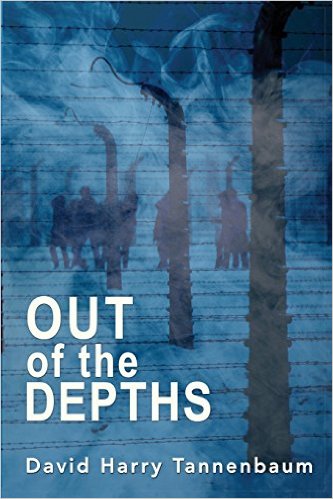 "It is moving and surprising," said Bairnsfather. "I don't often come upon fiction that speaks deeply into the psychological experience after the war and into the struggle to live what I think of as a "normal life."
Summary: Author David Tannenbaum tackles the Holocaust where his featured character is torn by all he has seen and survived
21 February, 2017 – South Padre Island, TX: David Tannenbaum's 8th novel, Out of the Depths is the story about a Holocaust survivor's attempts to leave the past behind and live a productive life in the present.
Out of the Depths recently won First Place for fiction at the annual The (Pittsburgh) Authors' Zone (TAZ) awards. Tannenbaum also earned high praise for his work from Dr. Lauren Bairnsfather, Director of the Pittsburgh Holocaust Museum where his book was officially launched in October.
"It is moving and surprising," said Bairnsfather. "I don't often come upon fiction that speaks deeply into the psychological experience after the war and into the struggle to live what I think of as a "normal life."
Out of the Depths follows brilliant pediatric surgeon, Dr. Bernard Helgman where his private life is hell – a hell fueled by guilt over his presence in a Nazi concentration camp infirmary while sadistic experiments were performed on fellow prisoners. Bernard's career is thrown into shambles when, decades later, a survivor recognizes and confronts him.
Tannenbaum's exquisite novel explores the many losses of a Holocaust survivor, and his lonely struggle to find a meaningful "after Auschwitz" life. Pathos, humor and tragic love is woven into a powerful story of survivor's guilt. Set aside some time and a box of tissues, you will need both.
Out of the Depths, published by Red Engine Press, is available in E-book format at Amazon Kindle. Watch for his upcoming Kindle Direct Promotion. The print version is available at Amazon and bookstores everywhere.
To learn more about Tannenbaum, Out of the Depths and his seven other novels, go to http://DavidHarryAuthor.com.
ABOUT DAVID TANNENBAUM
David Harry Tannenbaum and his wife Mary live on South Padre Island with their dog Franco. When he isn't writing, David enjoys kayaking, biking, and traveling. If David is off the island, he, Mary and Franco can usually be found enjoying their old stomping ground of Pittsburgh, Pennsylvania.
To reach David Tannenbaum or to schedule an interview:
Contact publicist Sandy Lawrence at 281.989.8892
sandy@perceptivepublicrelations.com
Contact Detail:
Company Name: Perceptive Public Relations
Contact Person: Sandy Lawrence
Email: sandylawrence@perceptivemarketing.com
Phone No: 2819898892
Address: 13202 Dogwood Blossom Trail
City: Houston
State: Texas
Country: United States
Website Url: www.perceptivepublicrelations.com


Source: www.PRExhibition.com