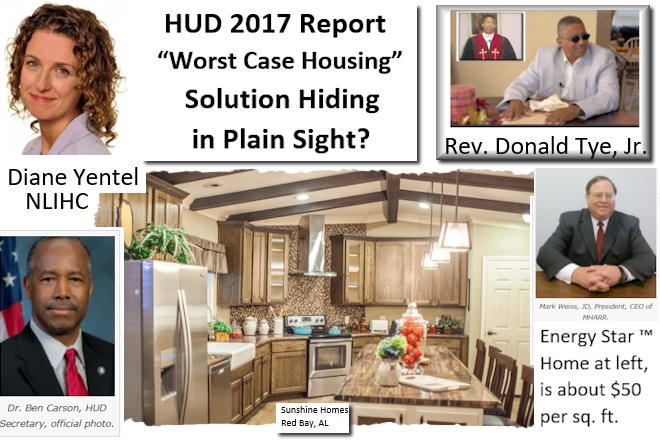 "As we think about housing in today's world, the most important aspect should start with affordability. When home ownership is affordable, it has ancillary benefits," said Rev. Donald Tye, Jr. to MHProNews.com.
National Low Income Housing Coalition CEO Diane Yentel, MHARR CEO Mark Weiss, Black Minister Rev Donald Tye, Jr. React to new HUD "Worst Case Housing" Needs Report, and comments by HUD Secretary, Dr. Ben Carson.
"The number of households experiencing this "worst case housing" has increased by 41% since 2007 and by 66% since 2001. We are experiencing an affordable housing crisis of unprecedented proportions," says a release from Diane Yentel, President and CEO of the National Low Income Housing Coalition (NLIHC).
Yentel thinks that Housing and Urban Development (HUD) Secretary, Dr. Ben Carson, is only partially correct in believing that public-private partnerships and relaxed regulations could fulfill the needs for more affordable rental housing.
She said, "While fewer regulatory barriers to housing production would help in high cost markets where the rental supply is tight, the private market will never provide sufficient housing for the lowest income households."
Yentel wants the Mortgage Interest Deduction (MID) for higher wage earners to be changed, so that those dollars could pay for more federal housing programs.
Other Options?
Actively retired minister and businessman, Donald Tye, Jr., has a different perspective. He wants to see ownership as the paradigm, not rental housing.
He also points to an often overlooked option.
"As we think about housing in today's world, the most important aspect should start with affordability.
When home ownership is affordable, it has ancillary benefits," Rev. Tye said to MHProNews.
"Ownership builds character, competence, and integrity," Tye said.
"One thing that is completely missed by politicians and prejudice towards manufactured housing is the tax benefit."
Tye and his wife raised their family in a factory-built home that was affordable. They paid it off completely in just a few years. The home they bought in the early 1970s, located in a Cincinnati, Ohio neighborhood, is now worth about 4 times its original price, per Zillow.
Other homes like Tye's were installed next to conventional housing, which also appreciated.
"What kind of home can someone buy today with low wages? A manufactured home," Tye states.
Aware of the prejudice and bigotry toward manufactured housing, Tye sees parallels to what happened in the civil rights movement.
He believes their own experience disproves the common misconceptions. It's as important to accept manufactured homes into neighborhoods where available buildable lots exist, as it was to accept blacks into previously all white neighborhoods.
"There goes the neighborhood," says Tye "was a fallacy with respect to the integration of people years ago, as it is with respect to the integration of housing types" today.
Third-party, university-level research bears out his belief.
Affordable homeownership builds equity instead of rental receipts, he argues. And in time, as homes are paid off, working and middle-class Americans can afford more than they could achieve by just renting.
Plus, Tye stresses, instead of being a tax burden, that household becomes a tax benefit to the community.
Stars like millionaire performer Kid Rock, notes Tye, have celebrated their own manufactured home. Recent reports of billionaires who own single-section manufactured homes as a getaway may also help change outdated and flawed perceptions.
HUD Secretary Carson
Secretary Carson has said several times in recent weeks that home owners have an average net worth of some $200,000. Renting households? They only have a $5,000 average net worth, Carson said.
While Carson has spoken favorably about manufactured homes in rural areas, he has not yet publicly commented on their use in urban settings. Yet it is his agency that has jurisdiction over federally regulated manufactured housing.
That is something Tye and others wants to see Carson address. More important, he wants to see that option become more available in urban and suburban settings.
Industry CEO Weighs In
"There are steps that HUD could take today to increase the availability of safe, decent and affordable housing for American families without spending a dime of taxpayer money," said Mark Weiss, JD.
Weiss is the president and CEO of the Manufactured Housing Association for Regulatory Reform (MHARR), which like the NLIHC, is based in Washington, D.C.
"Studies undertaken by HUD itself, show that HUD regulated manufactured housing is the nation's most affordable housing, surpassing even rentals" in affordability, Weiss told MHProNews.
Weiss wants to see manufactured homes fully incorporated into HUD's programs. He also wants to see existing law applied. President Donald J. Trump and Vice President Mike Pence have both broadly said that they will "enforce the law," and are in the "promise keeping business."
What Weiss wants is for precisely that to happen for manufactured housing, so that millions more can be served. Over time, that would reduce costs to taxpayers.
Weiss laid out his bullets as follows.
"By more fully:
incorporating manufactured housing into all of HUD's housing programs;
by advancing and facilitating the acceptance of manufactured housing within HUD and by government at all levels, as already required by law;
by eliminating unnecessary and non-cost-effective federal regulation; by preventing the discriminatory exclusion of manufactured housing by rogue jurisdictions, using powers already provided by existing law, and, most importantly:
HUD could elevate and reinvigorate an existing public – private sector program capable of providing inherently affordable housing for millions of Americans at virtually no cost."
The full report by Soheyla Kovach on MHProNews.com is available at this link here. ##
(Photo caption: home in the photo is an Energy Star ™ rated manufactured home built by Sunshine Homes, Red Bay, AL. Other credits are as shown in the photo collage.)
About LifeStyle Factory Homes, LLC – DBA MHLivingNews and MHProNews.
MHLivingNews.com and MHProNews.com are the leading trade publications for consumers, manufactured homeowners, MH industry leaders, investors and public policy professionals who want up-to-date lifestyle and business news.
Contact Detail:
Company Name: MHProNews.com
Contact Person: L.A.'Tony' Kovach
Email: tony@mhmsm.com
Phone No: 8632134090
Address: 4210 Arietta Lane
City: Lakeland
State: Florida
Country: United States
Website Url: www.MHProNews.com


Source: www.PRExhibition.com